Sledgeworx Handbooks are premier guides on Software Engineering. They are written with a combination of industry best practices and my personal experience in the industry.
Getting into Software
Getting into Software is our first premium handbook. It contains a breadth of knowledge on becoming a Software Engineer without a Computer Science degree. I cover evaluating your talent for programming, developing job ready skills, interviewing, whiteboarding and how to succeed once you get the job.
The Code Review Handbook 
The Code Review Handbook is a free handbook on Code Reviews. Learn how to efficiently and thoroughly review code.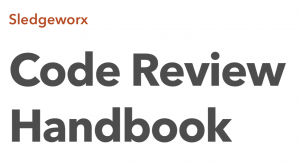 Click to Download the codereviewhandbook